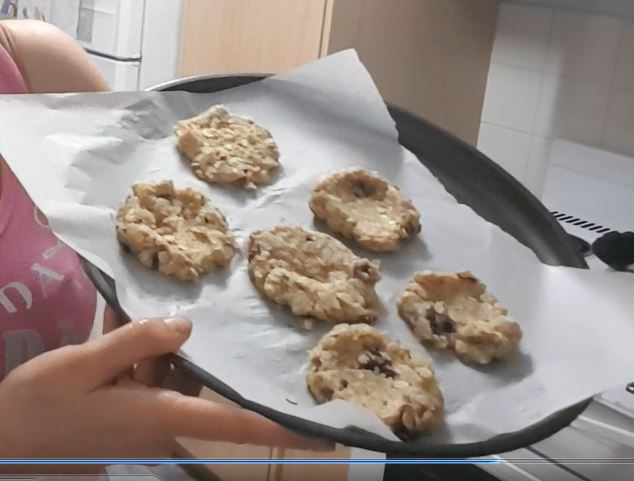 For me it's important that food TASTES good otherwise I won't eat it. It is just as important to me that I know what I am eating & that the recipe is quick and easy to follow. This recipe meets all of these requirements,  so I have to share it with you!
Healthy Oat Biscuits
1 cup (100g) oats – blitz in a food processor for 10 – 12 seconds to break up
¾ cup almond meal
1 ½ tsp ground cinnamon
1/2 tsp baking soda (optional)
Pinch salt
2 tbsp (28g) coconut oil (melted)
2 medium eggs, room temperature
¼ cup honey (or 100% maple or Rice Malt Syrup)
¼ cup (40g) cranberries or blueberries (frozen works well)
In a large mixing bowl mix together the oats, almond meal, spices, and salt. In a separate bowl, whisk together the coconut oil & egg. Stir in the honey (melt if necessary). Add in the dry mixture to the wet ingredients, stirring just until incorporated. Fold in the blueberries. Chill the batter for at least 20 minutes (I usually clean up my mess in this time ha ha!)
Preheat the oven to 170 Degrees Celsius and line a baking tray with baking paper
Drop the batter into 15 rounded scoops onto the baking paper, and flatten slightly with the back of a spoon. Bake (at 170 Degrees Celsius) for 11-14 minutes. Let the biscuits cool on the tray they were cooking on for 10 minutes before transferring to a wire rack & enjoy!
Notes: It's important to measure both the oats and almond meal correctly. Too much of either will dry out the cookies and leave them crumbly instead of chewy.