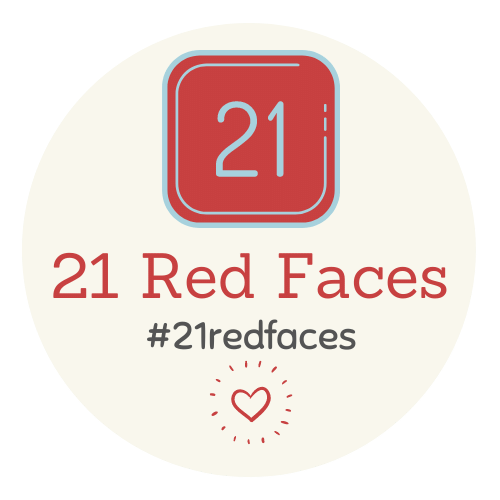 Download these great templates created by Heyley!
Let's Get Red Faced!
HERE ARE THE RULES SO YOU CAN CHALLENGE YOURSELF TOO!
#21RedFaces RULES
1. GET RED FACED each day by EXERCISING any way you like!
(Our definition of 'Getting Red Faced' is: enough exertion to get 'puffed out' or sweaty. Some days you might exercise for an hour, some days it might only be 5 minutes!)
2. Post a SELFIE on Social Media (or in a private message to us) EACH DAY
(This can be daunting at first, however it does help you to become accountable by knowing that others are watching when you post each day. You just may inspire someone else to become more active, and this is a great gift you can give another person.)
3. Use the hashtag: #21RedFaces

4. Number Each Selfie
(Chalkboard, Whiteboard, Piece of Paper, or electronically)
It all started when I committed to be active every single day in 2016! (#365redfaces)
By day 21, I was well and truly into a great habit and you can be too!
Since committing to at least 5 minutes of physical activity every day, I have enjoyed a balanced lifestyle with my diet & fitness.
I used to dream of the day I wouldn't feel guilty for eating bad food.
By creating this habit and being accountable for it, I can now confidently say I am FREE from my food prison for good!
You too can take charge of the voices in your head that make you stay in bed and make up silly excuses not to exercise!
I always tell myself this:
"If you want it, you can achieve it. If you don't quite achieve it, you don't quite want it bad enough. Anyone can say it, but it takes action to make it happen."
I started with fitness and then started eliminating 'bad' foods out of my diet and focused on consuming super foods.
It took me 10 years to lose the weight, and a New Year resolution to support me over my final hurdle: to stop feeling guilty about food!
IT REALLY ONLY TAKES AS LITTLE AS 5 MINUTES A DAY!

FOR EXTRA INSPIRATION:
#21RedFaces
#365RedFaces or #threehundredandsixtyfiveredfaces (before numbers were accepted in hashtags!!)
#LetsGetRedFaced
There are so many more benefits to achieving a daily 'red face':
POSITIVE BODY IMAGE,
MENTAL CLARITY,
MORE ENERGY,
BETTER SLEEP
… the list goes on! Can you add more?
COMPLETE THE CHALLENGE & LET US KNOW HOW YOU FEEL.
IT'S FREE & YOU CAN START WHEN YOU LIKE!