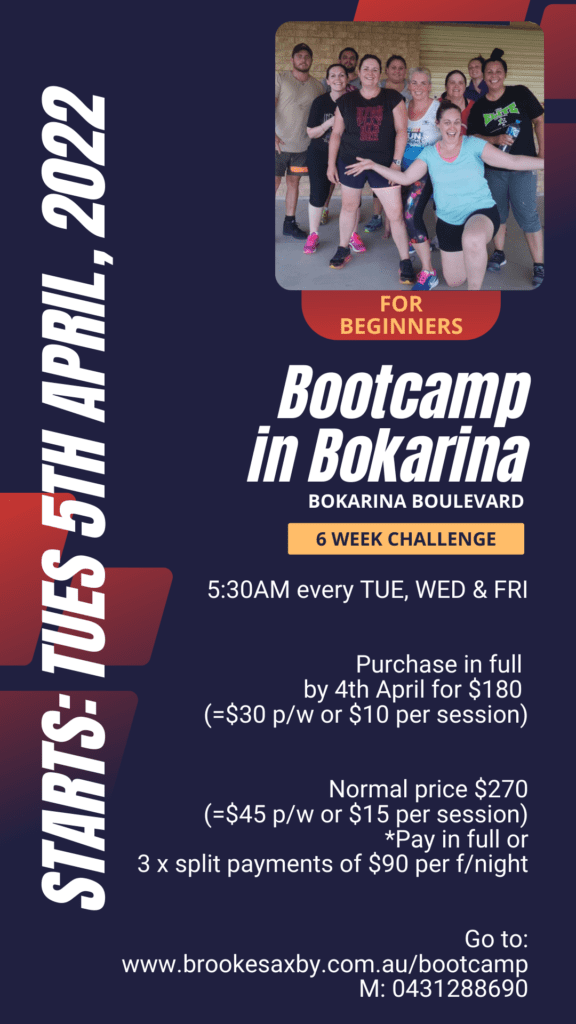 While everyone else is still sleeping, you will be joining like-minded individuals three times a week where you will learn some great exercises and improve your fitness each week. Boxing & strength based exercises are included.
Located in the Kawana Playground on Bokarina Boulevard in Bokarina, (across from where the Bok Beach Cafe used to be)
All participants are required to bring a towel and water bottle. There is filtered water, shelter and toilets available nearby. This is a non-discriminatory class and people from all backgrounds and abilities are encouraged to join.
Brooke will guide you throughout and the class is limited to 10 participants so you will receive the guidance and encouragement you need to feel great and enjoy the work out.
Brooke believes the having fun is really important, so we play up beat music and have lots of laughs while getting fitter.
If you are intimidated about exercising in public, this is the class for you – we start in the dark and finish as the sun is rising, and this sets you up with energy for a great day on Boot camp days!
You will receive a text reminder on Mondays and Thursdays (when there are days between sessions)
If you have any questions, feel free to text Brooke on 0431 288 690
PURCHASE BEFORE 31st March for the discount