THE START OF SOMETHING REMARKABLE …
#365redfaces (365 days in a row dedicated to getting 'redfaced' every single day) actually began in October 2015 when I was 'once and for all' sick of 'falling off the band wagon' and gaining weight again & again!
I likened my weight fluctuations to a roller coaster ride and I was absolutely sick of it!
My health suffered and I started getting sick regularly, plus I made it to within 1kg of my goal weight 3 times over ten years! Whenever I was close to my goal, I'd be super happy and start eating again and quickly fall back into bad habits.

At my heaviest I weighed 120 kilograms (264.5 pounds), however that's another story!
I was the queen of
exc
uses, but let's get to the good bit!

In October 2015 I was fortunate enough to attend an absolutely inspiring talk by STEVEN BRADBURY, the LAST MAN STANDING. Steven is the Aussie that won the first ever gold medal at the Winter Olympics.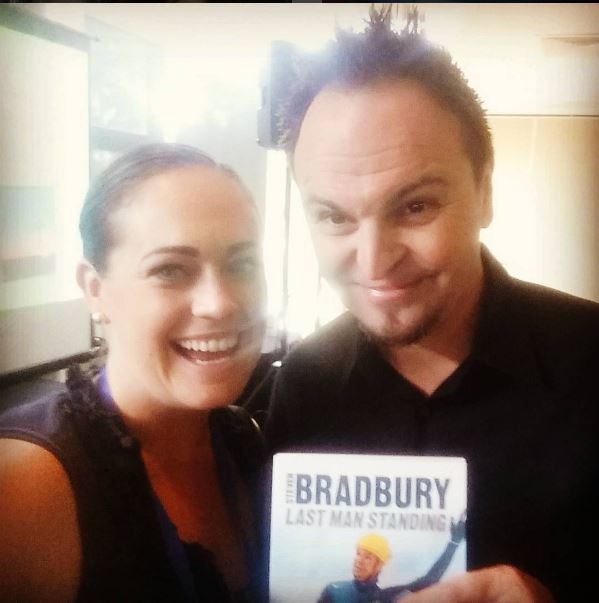 Every Aussie knows his 'story'. The man that was 'lucky' enough to WIN gold after all his competitors fell over. We all know what doing the 'Steven Bradbury' is. I listened to Steven's story and learned that he well and truly deserved his gold medal and more, so I decided it was time to call the 'BRADBURY in ME' to ACTION!
Looking in myself in the mirror, actually looking at myself, I had a little chat and we decided together (my reflection and I) that we were going to stopping mucking around and reach my goal!! Then and there I text my friend, who happened to be a personal trainer and we arranged to meet for 3 sessions a week. Then I would build on this. (FYI: I didn't lose any weight for the first two weeks because my diet hadn't changed.)
After 2 weeks of no change on the scales even though I was smashing myself in the PT sessions, I started eating a bit better in order to fuel my workouts because I didn't want to WASTE my hard work any more. It was easier to make the decision this way then try and force myself to eat healthy when I was living off sugar fuelled cravings. When my mind is strong enough the cravings don't phase me. Anyways – back to eating right because I wanted to fuel my body: I kept it simple because I'm no chef, but I just made my favourite foods in a healthier way. I also ate bacon eggs avocado and sweet potato at least one meal a day, but more often twice a day. I loved how this filled me up and I felt like it was a treat, even though it was a much better choice than my former Chinese take-away lunches on the daily!…

From October 2015 to December 2015 I had gone from 84kg (185.1 pounds) down to 77 kilos (169.7 pounds), though this wasn't what I was most excited about!  I went from a level 5 in the 'beep test' to a 9! I learned that I was fit enough to be in the Army with this and I felt unstoppable. This only continued…

Nothing could stop me now!
Over Christmas I lost another 2kg and became anxious about the New Year. I wasn't sure what I was going to commit to for my resolution. I asked my dad what I was good at… and what I was put on this earth for.
My dad responded that I was born with two ears and one mouth but sometimes I got these confused. He's a bit of a joker but this is true! I really love to talk and I am passionate about being passionate! I thought: If I put my mind to something at WORK and succeed, then why haven't I met my WEIGHT LOSS GOAL YET?
I was motivated to make 2016 my year!
I decided to see the New Year in by making the BEST decisions for ME! I contacted my personal trainer again and asked her if she would be interested in doing a PT session first thing on NEW YEARS day. She was keen! YES!

On the 1st January, 2016 I woke bright, fresh & hangover free from my long sleep (never in my adult life had I chosen this) & then my PT completely smashed me! We had so much fun!

We did sprints, boxing, and all sorts of high endurance cardio training.
I was pooped! (buggered)
Christie (that's my PT) and I 'high-fived' at the end (she did the whole workout with me) & the new year was off to a great start as my face was bright red!
Almost an hour later I was at the local car wash and caught a glimpse of my face in the mirror, and it was still red!
I laughed and thought I'd take a Sselfie. I started thinking about a funny slogan or hashtag to add to it: 'While you are nursing your hangovers'… or something along these lines… 'RED FACED is beautiful'… and then I realised I still didn't have a NEW Years resolution, I felt AMAZING, and I wanted to feel like this every day!….
So #365redfaces was born!
To keep accountable and stick to my resolution this time, I decided to be brave and share my journey on Social Media. I chose Instagram as I didn't have many followers and I didn't want it to be 'too much'. I thought I might annoy people if I put a face pic  on Facebook every day. With Instagram people could choose if they wanted to follow me or not.
By June 2016 my entire life had changed!

I have people I don't even know following me, and all thanks to a regional newspaper: The Toowoomba Chronicle for noticing a post I made and writing a story about me.
The Chronicle contacted me when I had started posting on Facebook inviting people to come and get #RedFaced with me once a week. I've met some amazing people from this!
Not long after the 2nd article, a journalist from That's Life! magazine got in touch with me and wanted to pay me to share my story! I was like: OK! It all continued to become more and more amazing!
Here are three articles from the Toowoomba Chronicle:
Not long after my story went in the That's Life magazine online, other media shared my story too: The Warwick Daily News, and the Daily Mail Australia were among the first.
I now know of people who are choosing to take action to better themselves because of my story & there is no better feeling. I don't feel as nervous about my 'fat picture' being posted everywhere if it can help others to believe in themselves.

This is the best result I could have asked for! People from all over the world have joined my #21redfaces challenges and have changed their lives positively in some way because I have shown how I could & that is just Awesome! My heart fills up so much!
Everyone is on their own journey and sometimes we just aren't ready.
When you are ready however, why don't you start you own journey and join my #21redfaces challenge? You don't have to share with anyone, that is optional. Committing to a 5 minute routine for 21 days in a row can really help you to start believing in your own abilities and see how easy it can be to create good habits and change your lifestyle for the better.

I am obsessed with looking after myself and choosing ME above all others. I come first, everything & everyone one else comes second.