Red Face Workout
8 September 2021 @ 9:00 am

-

10:00 am

$5
Get Red Faced every Wednesday, 9AM sharp at 'Kawana Playground' on Bokarina Boulevard, Bokarina and feel better about yourself!
If you want to feel welcome, included and supported while you exercise, then this is the workout for you! With Coach Brooke, you are welcomed and supported through enthusiasm and joyful encouragement to reach your potential.
Brooke is a passionate health coach that loves teaching others that exercise is fun! If you are someone that wants to get moving more, and you are looking for motivation, then training with Brooke is what you've been looking for! The best part is that Brooke teaches you the correct form to give you the confidence to repeat the movements at home, and encourage you to create your own at-home workouts to really enhance your overall well-being.
Brooke's weekly workouts are never the same! The are designed specifically with beginners and people recovering from injuries in mind, however she caters to all fitness levels. Brooke understands the importance of making exercise fun so that you will want to come back again!
Join Coach Brooke for a workout that will get your heart pumping to support your energy levels through the rest of your day; book your place now!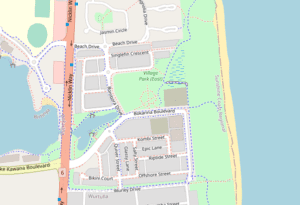 Please note:
As of September 2021, Google Maps have not updated their map in more than 12 months, so you will be unable to correctly input this location with Google and it sends you on a crazy tour nearby. Instead please select the map above to view our location, and navigate your way from Nicklin Way. The Bok Beach Cafe is another good landmark as we are located directly in front of this. Parking can be difficult at this present time as all the workers have taken the parks, so please allow time to walk a little to the destination.